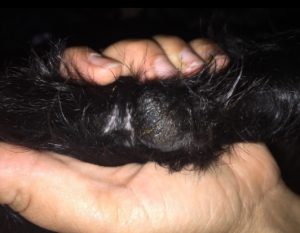 This was suggested to me by a specialty vet who does rehab. I attended his walking/running with your pet clinic. (So my 9 year old might get some tips for walking better with him.) I had asked for ideas/solutions for my labradoodle who tends to rip off large pieces when he runs across and pavement (like chasing a ball at super high speeds). He has large paws and was completely tearing off 1/2″ pieces that were 1/2″ long, down to the delicate flesh underneath. He advised us that if we rubbed this (use sparingly) daily for a while, it would soften his pads (they were pretty firm and dry) and he would be much less likely to have those problems. We try to avoid him running on pavement, since he has the speed of a cheetah, but occasionally an errant ball will cause a problem. He actually ran across the pavement when my son was throwing the ball. His foot pads were totally fine, unfortunately we did not rub it into the higher pad (above the dewclaw) and he tore that up – to the point that he was whining when licked it. Guess we will condition that as well.
I photographed his good paw and the torn upper pad. It is hard to see because he licked it back into place, but if you see the brown line, that is the lifted part of the flap and it is a detached piece that is the size of a thumb nail. It was lifted all the way to where my fingers are, but it was so painful to him that we didn't dare to go to the vet to remove it. Good thing because he licked it back over the tender skin so it has a 'covering' again. I think it would have gotten the raw flesh dirty if we had it removed.
It was definitely a great solution since his pads used to get big tears like he got on his upper pad.