We love hearing your stories about Musher's Secret and seeing your pet pics!
If you'd like to share yours, then click the button below and join the Musher's Family!​
Website Reviews
Amazon Reviews
Website Reviews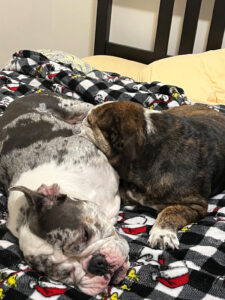 Dear Mushers Secret,
I own two rescue Bulldogs and it seems their paws and noses are ALWAYS cracked or dry. I have been using your product for a little over two weeks and what a difference it has made! I am 61 and I have terribly dry heels, I have tried everything, literally spent a small fortune! I decided if it works this well on the dogs, after reading the ingredients, would it work for me? The answer is YES! It has completely healed my cracked open heels in a little over a week! I just wanted to say thank you!!!!!!!!!!!!!!!!!!!!!!!!!!!!!!!!!!
Ms. X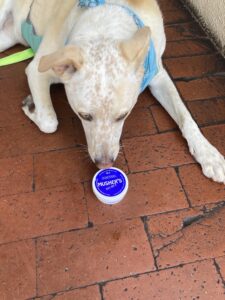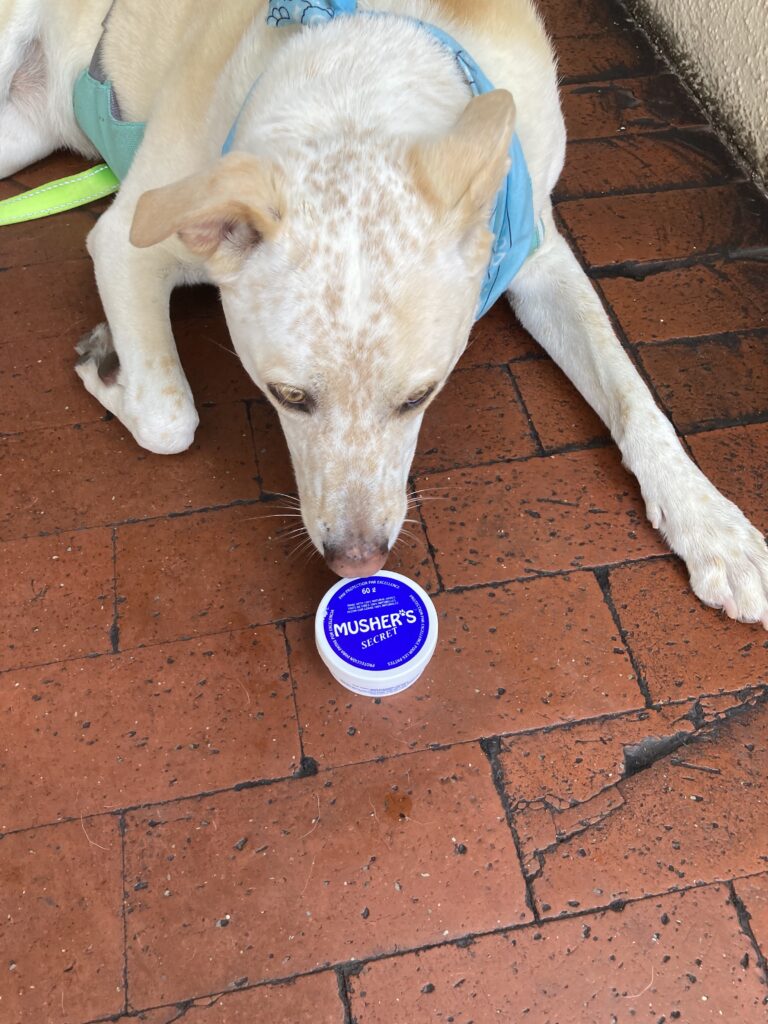 Keeps our paws nice and soft!
Bowie
San Diego CA
Finally my Jack Russell has some relief, the vet said it was part of his allergies but no allergy medicine ever helped. I Found Mushers Secret, have been using it for less than a month and already see great improvement in his feet. Thanks!!
Tim
Oregon
We have a big German shepherd that has always had terrible paws. She was always tearing them open and could never develop good callouses. We spent a fortune on different shoes that never really worked right, and she hated. Then our vet suggested mushers secret, I tried it and was amazed!!! We have not had any more issues! Zero! After 2 years of bandaging torn paws!! Her pads have even toughened up. We just make sure to rub musher's secret on before any big runs or hikes and that's it. It even made me write my first online review ever! I highly recommend and will be buying for the lifetime of my dog I'm sure! Just wish I was able to buy it somewhere local, we have a hard time finding it…
Corrine P
We have a big German shepherd that has always had terrible paws. She was always tearing them open and could never develop good callouses. We spent a fortune on different shoes that never really worked right, and she hated. Then our vet suggested mushers secret, I tried it and was amazed!!! We have not had any more issues! Zero! After 2 years of bandaging torn paws!! Her pads have even toughened up. We just make sure to rub musher's secret on before any big runs or hikes and that's it. It even made me write my first online review ever! I highly recommend and will be buying for the lifetime of my dog I'm sure! Just wish I was able to buy it somewhere local, we have a hard time finding it…
Corrine P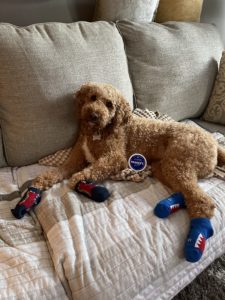 This works so well on Finn's paw pads that get rough and dry. He looks forward to a weekly pawdicure! He even wears some socks to allow the product to absorb for about 30 minutes.
Beth Graham
Missouri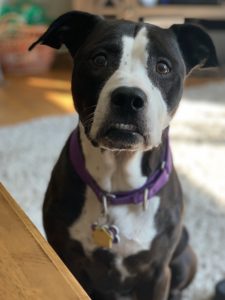 I have been using Mushers for years! It works SO well for hot spots on the paws and irritations. I always keep a container on hand and use it year round. It's gentle and works !
Lisa and Delilah and Cali
Connecticut
Hello from the Rocky Mountains,
My husband and I along with our 6 year old Goldendoodle have been playing in the mountains for a week. The cold dry air has taken a toll on my poor face, which was rough, scaly , and to the point of unbearable. I am a wholistic retiree who uses nothing but natural products ever, but none of my homemade concoctions were doing the trick (coconut oil,olive oil, rosemary, sugar scrub, lavendar etc etc.) My husband said "maybe you need something waxy" and I immediately thought of Musher's Secret which we use for our very furry footed friend, Poppy.
I got immediate relief and have been applying to the rough areas both morning and night…no more scales and rough patches…truly amazing. It has also helped with dry itchy patches on legs and elbows…thank you so much for this amazing product! And after finding the list of ingredients, I feel even better about using it…I was afaid it contained petroleum, a no no in the natural world! BTW Poppy loves it too.
Cindy
Custer Wisconsin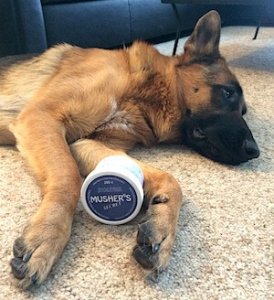 Hello,
As I was getting my dog Haas ready for daycare this morning it occurred to me that I should share with you that we love your product!
I live in northern Ontario and our winters get cold but also the life he lives and daycare he attends is a very active one.
I own a dog training facility and his daycare takes them on hikes and runs with sleds/four wheelers. (Run Of The House-Dog Daycare/Adventure Park)
I've tried many other products for his feet and boots which I altered to stay on all of my dogs feet (I have 3) and since using your product I haven't used anything else.
I have begun telling all of my students and my daycare about Mushers Secret and recently made a Facebook post about winter safety for our pets and included information about your product.
Our routine before daycare is Haas (my other dogs are slowing down and retiring so they go to daycare less, Haas is my young 11mon German Shepherd in training) lays down on the floor and anxiously awaits his foot massage! He falls asleep as I apply your product and then he lays there for a bit in a bit of a sleepy state. So as he laid there I snapped this picture for you ????
I've also attached another of him running at daycare putting your product to use and one more of all 3 boys.
Thanks again Ben Great Dane, Wylie Shep mix and Haas German Shepherd & Erin Young, RVT, CPDT-KA
Canine Academy
"Well trained, man can be a dogs best friend"- Corey Ford
I want to let you know this is the best thing my vet has recommended for my shitsuz! Last winter Bentley couldn't walk in the snow with out falling over from the ice frozen to his paws. The way I see this product saved his life because he would not even be out for a minute and fall over. I have recommended this product to all of my friends with dogs!! Thank you,
Melissa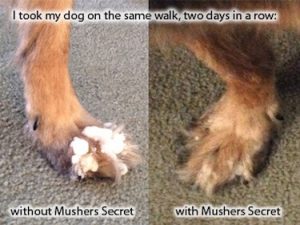 I work at a store that carries your product and decided to try it. My dog doesn't have much of a problem with the ice, but since he has giant fluffy feet, he gets ice balls built up in them and eventually he just stops on the walk and lays down, until i pull them out of his pads. I've used booties before but decided to give the Mushers a try because I thought it might be more convenient. I took him on the same walk two days in a row, once without Mushers and once with, and took a picture of his paws
after each one.
The results are pretty impressive! Thought you'd appreciate the photos… it's definitely a worthwhile product!
Tiger
I was just reading testimonials on your site and wanted to share mine. I have a very active chocolate labrador and a mini mutt. The labrador has done everything to those pads on his feet -running too much/hard on pavement & trails, walking over shells at the beach, running in streams, walking on salt on the icy sidewalks -he's cut them, cracked them and just plain worn them right down. After discovering Musher's Secret, he does many of the same ativities but no cracks, cuts, wear or blood on my carpet! And the little one is a fur ball, the snow balls right up on her but she loves being out in it. She tolerates sweaters which prevent much of the balling on her legs and body but Musher's Secret is her savior because she is a Houdini at shedding those booties!
I recommend Musher's Secret to all of my dog loving friends and just recently recommended it to a partner in my firm because his dog has allergies that hurt her paws.
Thank you from both of my 'kids' and myself! ????
I just wanted to take a moment to tell you how wonderful we think your product is. We recently adopted a Shar Pei / Australian Cattle Dog cross with special needs from a local shelter. Lilly was born both blind and deaf, but that doesn't slow her down for a second! She loves going for walks, exploring new places, and meeting new people. We live in Columbus, OH and our walks generally have Lilly pounding at least 2 hours of sidewalk a day. I noticed that her feet seemed sore, and that she didn't seem as happy during our walks. I finally figured out that her poor pink feet were baking on the hot sidewalks! I ordered a small tub of Musher's Secret from the onlynaturalpet.com online store, and began using it the day it arrived. This product is fantastic! Not only did Lilly resume her joy in walking with me, but her dry, cracked pads have become nice and soft again. With her lack of sight and hearing, her sense of touch is very important, and your product has given her sensitivity back to her foot pads, and soothed the soreness. I also always rub it into my cuticles when I apply it to Lil's feet, and it has really helped my chronic hang nails and dry, peeling fingertips due to my need to very frequently wash my hands at work. We love your product, and can't wait to tackle winter with it! Thank you so much for making such fabulous product that is safe and non-toxic to our beloved Lilly!
Best Wishes,
Jenn and Lilly
I recently purchased your product for my 7 month old St. Bernard/Husky who has to deal with the salt and yuck on the downtown streets of Ottawa, ON. I am so PLEASED with your product! It is easy to put on (I have heard horror stories about getting booties on dogs), the dog likes the feeling, and he is no longer getting sore paws and snow balls on our walks.
I am also looking forward to trying it out in the summer to help Finny with the hot pavement.
Thank you for making a quality product. I also appreciate the smell, how it doesn't stain my carpet and its easy to get off my hands.
Have a great day.
Kelly
Hi!
"I wanted to thank you for developing such an outstanding product. My beagle Lucy was adopted from a high-kill Kentucky shelter and transported to chilly, snowy Buffalo, NY. When it started snowing it was apparent she was incredibly sensitive to salt for de-icing, as she had probably never encountered it before. I live in a large apartment complex so they won't use dog-safe salt.
I agonized about what to do with her. If she even stepped on a crystal of salt she would whimper and shiver in pain and I'd have to carry her home and wash her feet out in the tub. I couldn't find a decent pair of boots that didn't take 15 minutes to put on her. I had no idea what to do!
Then I looked online and found your product. Only one dealer in my immediate area sold Musher's Secret in stores. I raced over, bought the small jar, and put it on Lucy as soon as I got home. I took her outside and I couldn't believe the difference it made! She hadn't been so happy to be outside in weeks. She was wiggling with joy, romping over snow and ice and even the salt, though I tried to get her to avoid it– she didn't care! Now we can go on long walks like we used to in the warm weather.
Why is this a secret!? This is a must-have for any dog guardian. I'll be using it year-round!"
Thank you so much,
Adrienne and Lucy
We received your donation of Musher's Secret for our charity raffle. Thank you so much for being so generous. With these several cans of Musher's Secret, we will be able to use them in several different raffles with all proceeds going to Chase Away Canine Cancer and our local pet rescue group.
You have a super product that I recommend to people all the time. As a matter of fact, I just bought another can to use on our dogs' paw pads for their next dock diving event. It's going to be on an asphalt parking lot in August. Can you say HOT? Even though the pool and crating areas will be covered, they still have to walk around from place to place. But I know putting Musher's Secret on their pads will help prevent any burn they might get walking around on the asphalt.
Again, thanks for your help.
Nancy
Hello!
I just wanted to write you and let you know your product has worked miracles for my dog.
We just moved from Texas to Boston, and experienced our first snow. My dog loves to walk, she looks forward to at least two miles a day. After the snow, she could no longer walk even half a block before limping, crying, and giving up.
She has hairy paws, and it appears the snow was balling up almost immediately, and making it very painful to walk. She was getting cabin fever, very heartbreaking that she had to stop doing the only thing that makes her happy.
I got boots, but they were worthless. She refused to walk in them, and they didn't stay on anyway.
Someone told me about Musher's Secret today. I immediately went to the only store in the area that had it, and picked up a tub.
I put it on, took a deep breath, and took her outside. I was absolutely shocked to see that she had zero problems! She was so happy to be out walking again. She made it the full two miles, over salt, sand, snow and ice, and never even hesitated.
I cannot believe this one little product saved our sanity by preventing the pain and discomfort. Thank you so much for making such an excellent product! It is a must for dogs in the winter."
Sincerely,
Jools and Mogwai
I want you to know I have never written a letter endorsing a product until now. I have an English Bull Terrier. The way her legs are constructed makes it very hard to keep boots on without nearly cutting off the circulation in her legs. She's quite a snow romper, and within seconds (less than 10 feet into the walk) her nail beds and pads would be bloody messes. I figured using Musher's Secret was worth a try and it's a miracle. Her normal walk circuit is a mile in a snowy meadow, where she runs like a demon with her best German Shepherd pal. Since using MS there has not been one drop of blood, nail bed irritation or cut pad. It's simply amazing. We have now recommended it to two other dog owners who have reported similar results."
Thanks for making a great product!
Cathy
Hi,
I am about to start my third year as a veterinary student at the University of Illinois. I just wanted to say that I think your product is fantastic! I originally bought it for my Bearded Collie, Frankie, since we enjoy taking long walks in the winter, but he didn't enjoy the salt burn or snowballing. I noticed it had a soothing effect on his feet and would use it if he had any hotspots elsewhere on his body. It worked well for that too! I've recommended your product to several of my friends. One of the dogs I recommended it for was my friend's Beagle-Lab mix. Shadow is about 13 years ol d, and has an inoperable mast cell tumor on his front foot. He kept biting and chewing on it and it was becoming impossible to keep him from bothering his foot last winter. Shadow was bleeding and at risk for secondary bacterial infections. I recommended Musher's Secret–and his foot was able to heal. He no longer has a cracked, bleeding tumor, and his family doesn't have to worry about him being at risk for infections. My friend's mom said it saved his life; they were worried that they would have to euthanize Shadow because of the bleeding and infections. It's six months later and Shadow is doing fine–as long as he has his Musher's Secret applied weekly. He still does have the tumor, but his quality of life for the time he has left has improved. I'm so happy it extended this dog's time with his family. I love this product, and I will definitely be recommending it to my clients and have it available at my office when I am a veterinarian.
Sincerely,
Jane
College of Veterinary Medicine, Class of 2012 Bachelors of Science
I am a long time user of Musher's Secret…on my dogs.
Several of my afghan hounds have benefited from your product, but recently I found another use for it.
My son, a very active boy, had been trying to break in some new skates and they were REALLY beating him up.
Blisters and bleeding on the bony protuberances of his ankles were effectively hobbling the poor kid…and TRYOUTS were just around the corner. Well, as luck would have it, I was applying your product to my two year old affie, as my son was getting ready for a double session workout, and he was looking really down. I told him to hold up for a minute, pulled back his gear and greased him up right over the painful areas. He skated for TWO HOURS of hard drilling, and came off the ice without a limp. It has since healed up the injured areas and given him back his game. The coaches were stunned (they'd seen the ankles before treatment) and I have relinquished a couple of the 60g jars to grateful smiles. I think you have half a dozen new customers and we WILL be getting the word out. Nothing short of MIRACULOUS!!
Thank you AGAIN!
MJ
Grateful Hockey Mom
Love this product! I have a miniature dachshund and booties were not an option! When I took the last set of booties back to the store I asked if there was anything else I could use, they suggested Musher's Secret, I got a small tin, came home and while I was waiting for the snow to make it's way to Virginia, I looked at your website, and read up on your product.  Well, today we are getting snow and I'm very happy to say, I took Klaus out and we had a good walk without having to stop and thaw out his paws! Couldn't believe it and I'm sure Klaus couldn't believe it! What a great product!
Thanks
Cathy & Klaus
I just wanted to thank you so much for your Musher's Secret paw protection. My poor terrier mix was limping and hopping even during very short outings this brutal New York City winter, and sometimes I had to carry him home. A friend recommended Musher's, and although the tub cost $30, I bought it and tried it immediately: wow! Freddie is now a happy, mobile dog again outside on snow, ice, and salt. Unbelievable! I am really grateful: thank you!
Kim
Institute for Cancer Genetics, Columbia University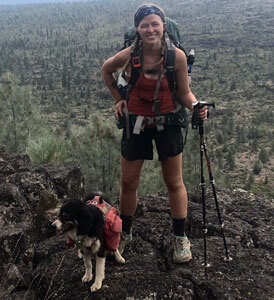 Indi and I took on 3 months and 1636 miles of the Pacific Crest Trail this past summer. It was always humorous to hear passerby ask how her paws were holding up. I'd always jokingly yet very seriously respond, "better than mine." We had our evening routine of massaging my feet with lotion and hers with salve.
Upon getting home, a vet visit was in order and he was taken aback by the lack of wear she had experienced, "typical of a dog her size and breed." We will always have this salve in her pack for our walks, no matter their length.
Madison and Indi
Amazon Reviews
Are You Ready for Your Next Adventure?
Download the Ultimate Adventure Checklist now to help prepare you and your furry friend on your next exploration! Whether it's hiking, backpacking, camping, or just a day at the beach, be prepared with all your dog's essentials to ensure a fun and safe adventure.